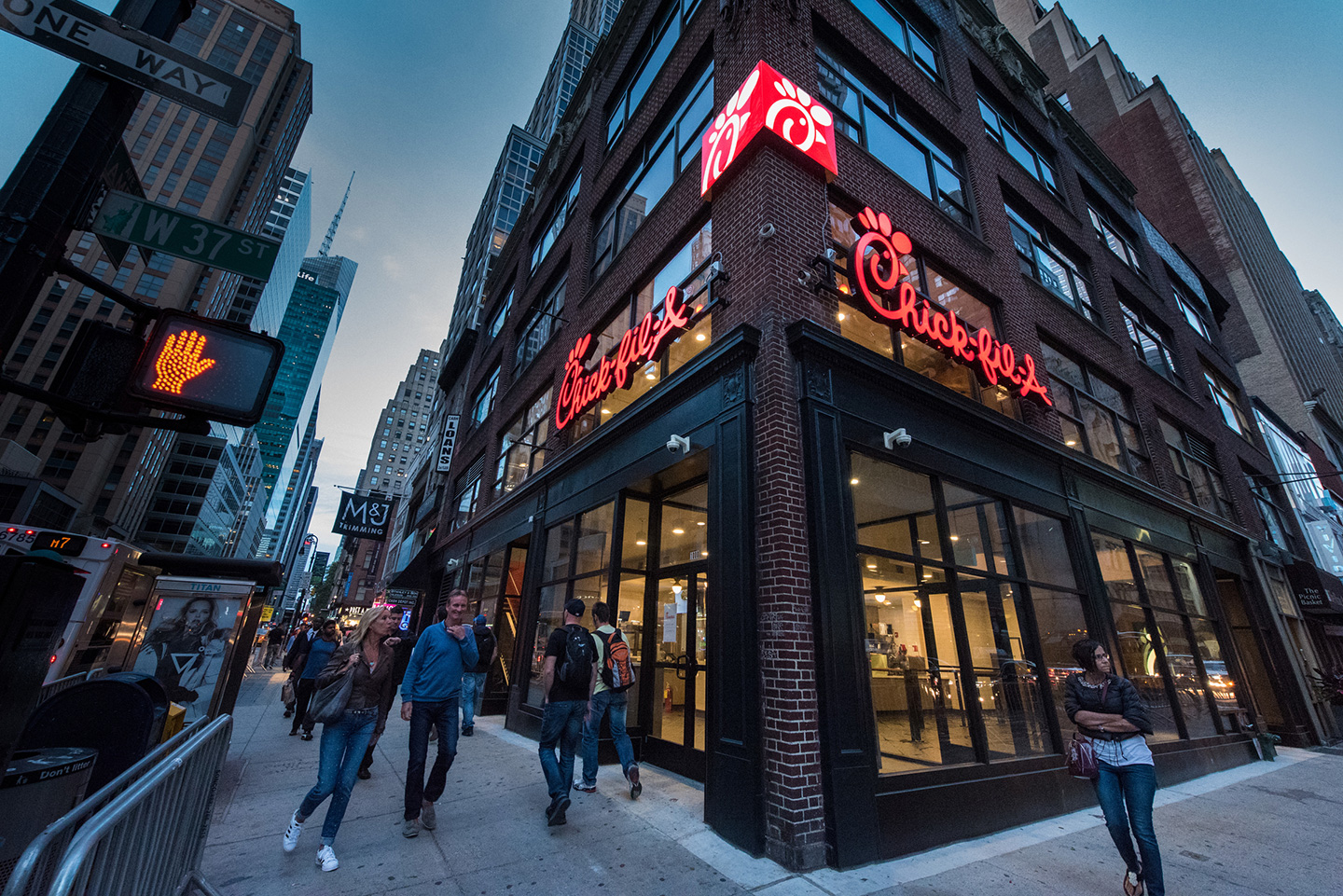 New York City is not for the faint of heart. That goes for native New Yorkers, transplants and businesses alike. And for a business looking to create a footprint in New York City for the first time, the list of considerations, obstacles and questions can be seemingly endless.
Chick-fil-A began preparations for entering the Big Apple years ago. And now, the first Chick-fil-A restaurant in New York City – located in the Garment District at the corner of West 37th Street and 6th Avenue– will finally open on Saturday, Oct. 3.
"People have been asking us to come to Manhattan for a very long time, and I think there are going to be a number of people who are thrilled beyond belief when our doors open," said Ryan Holmes, Chick-fil-A's urban strategy manager.
"The biggest challenge: adapting the typical Chick-fil-A restaurant design into a more compact space and adapting it to the needs of bustling city residents."
But opening a restaurant in the heart of Manhattan is anything but simple. The biggest challenge: adapting the typical Chick-fil-A restaurant design into a more compact space and adapting it to the needs of bustling city residents. Getting that right has been the mission for Holmes.
"When you think about our restaurants in suburban areas, you think about parking lots, drive-thrus and playgrounds. But as you think about the urban environment, there isn't any of that," he says. "Our customers in the suburbs want very different things out of their experience than customers in urban environments like New York City."
So how'd they do it? We talked to three key people behind the NYC restaurant design to find out.
Ask the Experts
After conducting small focus groups in New York City, research revealed that every element of the restaurant -- from the aesthetics to customer service – would need to adapt to serve New Yorkers' unique needs.
"This research at the beginning was key," says Jessica Fort, Chick-fil-A urban strategy coordinator. "We interviewed six small groups in New York City, which helped lead us in the right direction and stay on task."
New York residents played a huge part in planning for this restaurant. After focus group participants shared that they were tired of interior design with only white subway tiles and preferred more wood and natural tones instead, Chick-fil-A designers incorporated those textures. A quick and accurate ordering experience was also a must-have for New Yorkers, and the restaurant team will address that.
"There are so many places to eat in New York City, and we want to make Chick-fil-A one of the top options," Fort says. "To do that, we are going to be as efficient as possible to best serve our guests."
Thinking Outside the Box
When Steve Nedvidek, senior manager of innovation and design at Chick-fil-A, was approached about design preparations for the restaurant at 37th and 6th, he knew his team would need to change its perspective.
"We were looking at a whole different ball game with this restaurant," Nedvidek says.
The team was met with questions like, how do you split a kitchen into multiple levels? How do you serve extremely long lines of guests and still do it quickly? And how do you still deliver one-of-a-kind customer service?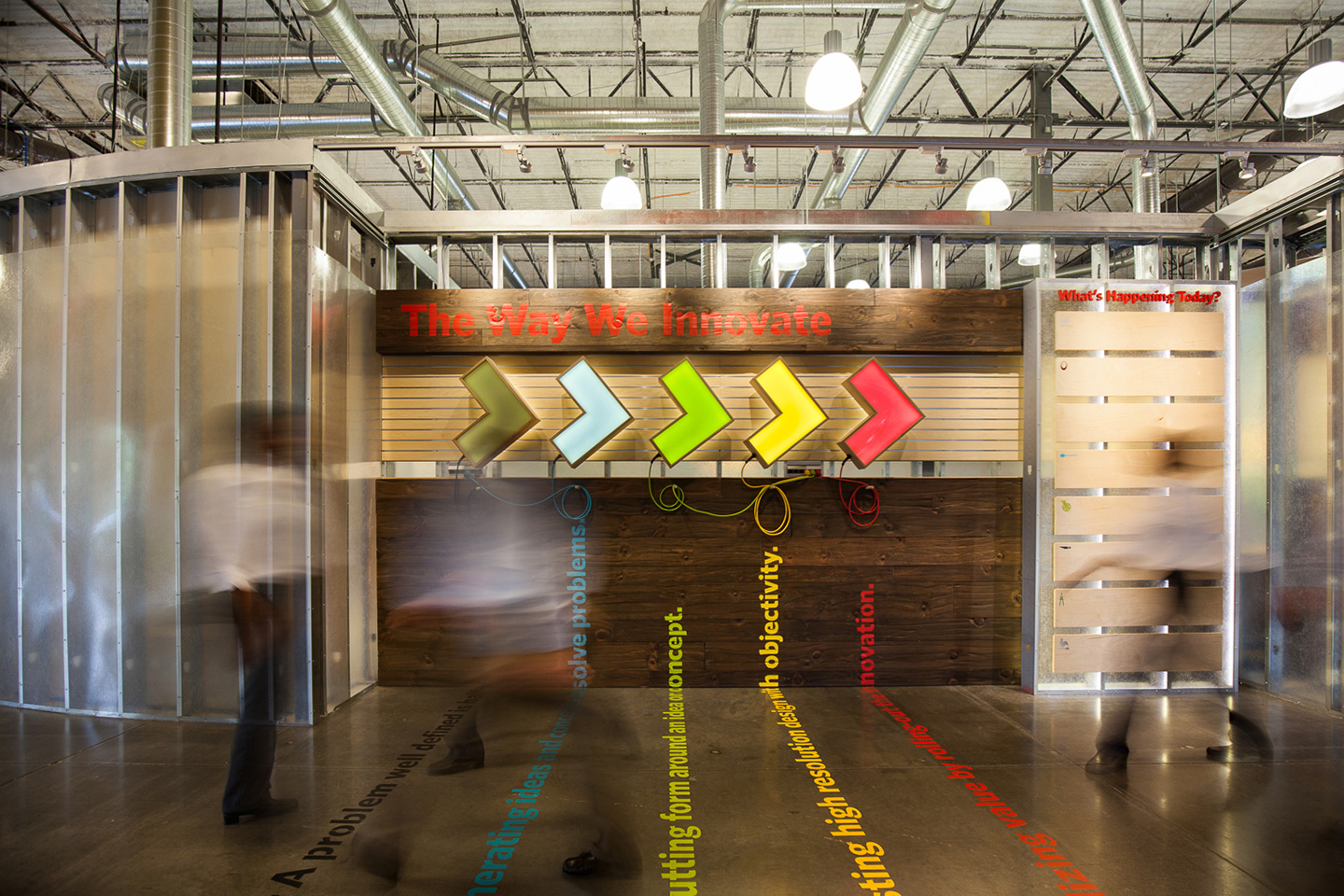 Hatch, Chick-fil-A's Innovation Center. Photo by Ashton Staniszewski
Nedvidek formed a cross-functional team representing 20 to 25 different departments, along with a team of 32 franchise restaurant owner-operators from across the country to develop innovative solutions. They started by building a full-scale mock-up of the New York City restaurant at Hatch, Chick-fil-A's innovation center located at its headquarters in Atlanta, Ga.
"We used the foam prototypes to practice everything that will happen at the actual restaurant."
"We had a large simulation with prototypes we built out of foam core – real life simulations of what the restaurant will look like," says Nedvidek. "We used the foam prototypes to practice everything that will happen at the actual restaurant, from preparing the food and serving customers to ensuring technology works and there are enough team members in each part of the restaurant."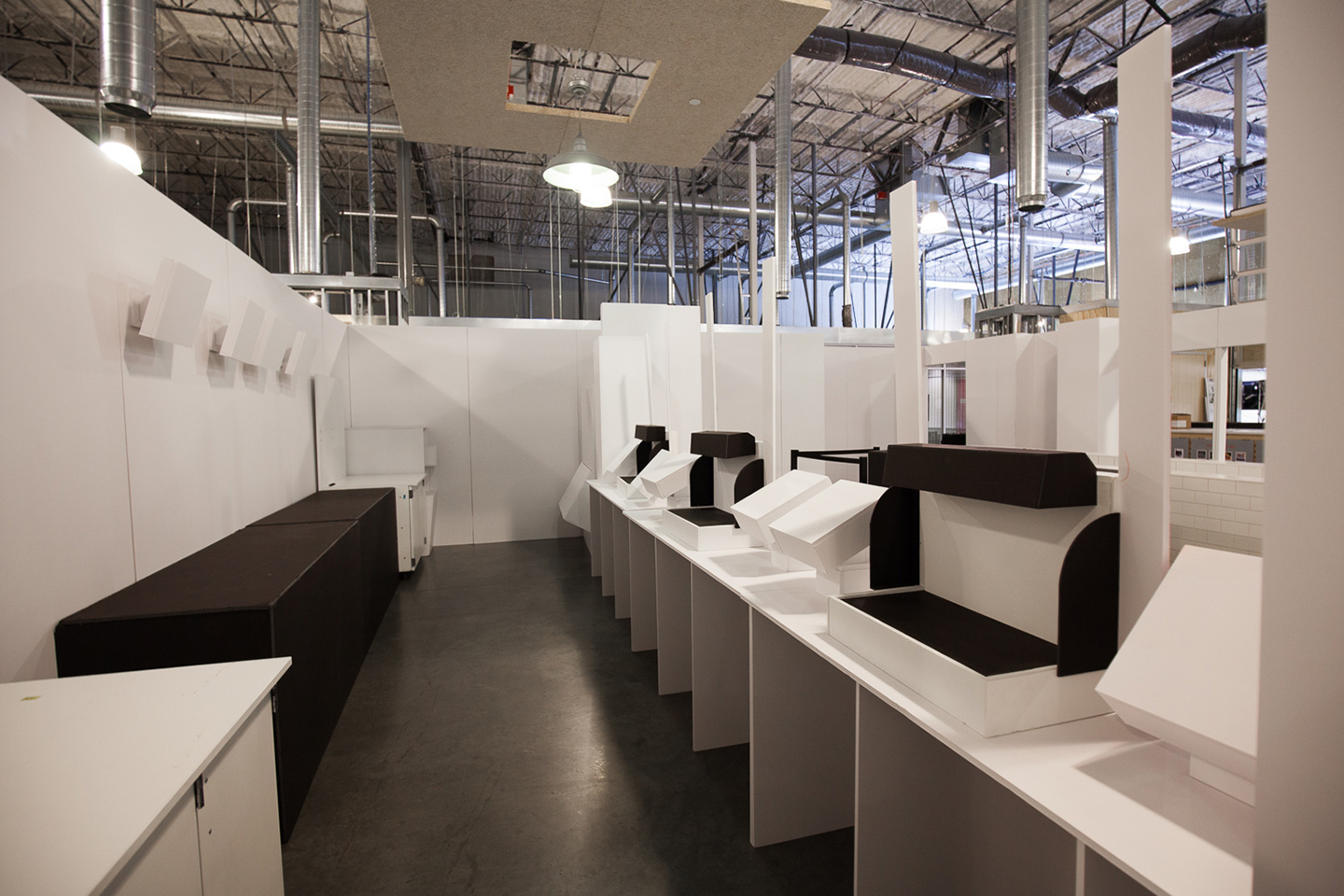 Photograph by: Ashton Staniszewski
Nearly 120 people have been involved in simulations at Hatch for the New York City restaurant to discover answers to Nedvidek's questions, determining the optimal kitchen layout, the best way to serve and identify customers in line, the most suitable packaging for food orders and more.
Ready to Serve
Once Chick-fil-A at 37th and 6th opens its doors, New Yorkers will be able to experience what was simulated firsthand. What they may not realize is that the simplest parts of their visit, such as ordering a meal, took months of research, planning and practice.
"At our restaurants across the country, we take our guests' orders in the drive-thrus by using iPads – in New York, we're bringing this inside the restaurant to take guest orders while they are in line," Fort said. "By the time customers arrive at the front counter to pay, their order will be ready."
It's a system that has already worked in other urban areas, like Chicago.
In addition, the restaurant will be LEED certified – one of few quick-service restaurants in New York City to achieve this designation. Sustainability efforts were a priority for the restaurant, which will be among the first Chick-fil-A locations to feature an "InSinkErator" food waste disposal system that pulverizes food, draws out moisture and reduces the volume of organic waste by 80 percent. Trash compactors will help reduce waste volume as well, and plastics, glass and cardboard will be recycled.
"I'm excited to see the reaction on New Yorker's faces when they see the amount of thought that's gone into this restaurant," Holmes said. "It's rare to find the quality of food, quality of service and speed of service like ours, and I think everything about this restaurant is going to blow them away."