It's a game that revolutionized the arena of gaming apps and has millions addicted to their phones and tablets, but in a community nine miles south of Denver, "Angry Birds" means much more than wingless fowl, slingshots and pig targets. There, "Angry birds" has been the theme, the news story and the punchline at a local restaurant this month.
"In six years of working here, I have never seen anything this crazy," said Lauren Plain, local owner of the Littleton, Colorado Chick-fil-A.
Calls started coming in over a weekend – reports of birds dive-bombing customers in the parking lot, pulling at people's hair, people running from their cars to the restaurant door holding onto their heads and hats. In a town known for its relaxed ambiance, Plain thought they were – at first – a joke.
But when she arrived to work on Monday morning, Plain realized this was no joke, no 1960's movie plot, no addictive gaming sensation.
"I wondered, what's going on? We've got angry birds attacking people because we're serving birds," Plain exclaimed. She soon understood, "this is a big deal."
Two birds –- one perched atop a light pole, another on the restaurant roof – each plunging from its roost, just above both customers' and employees' heads.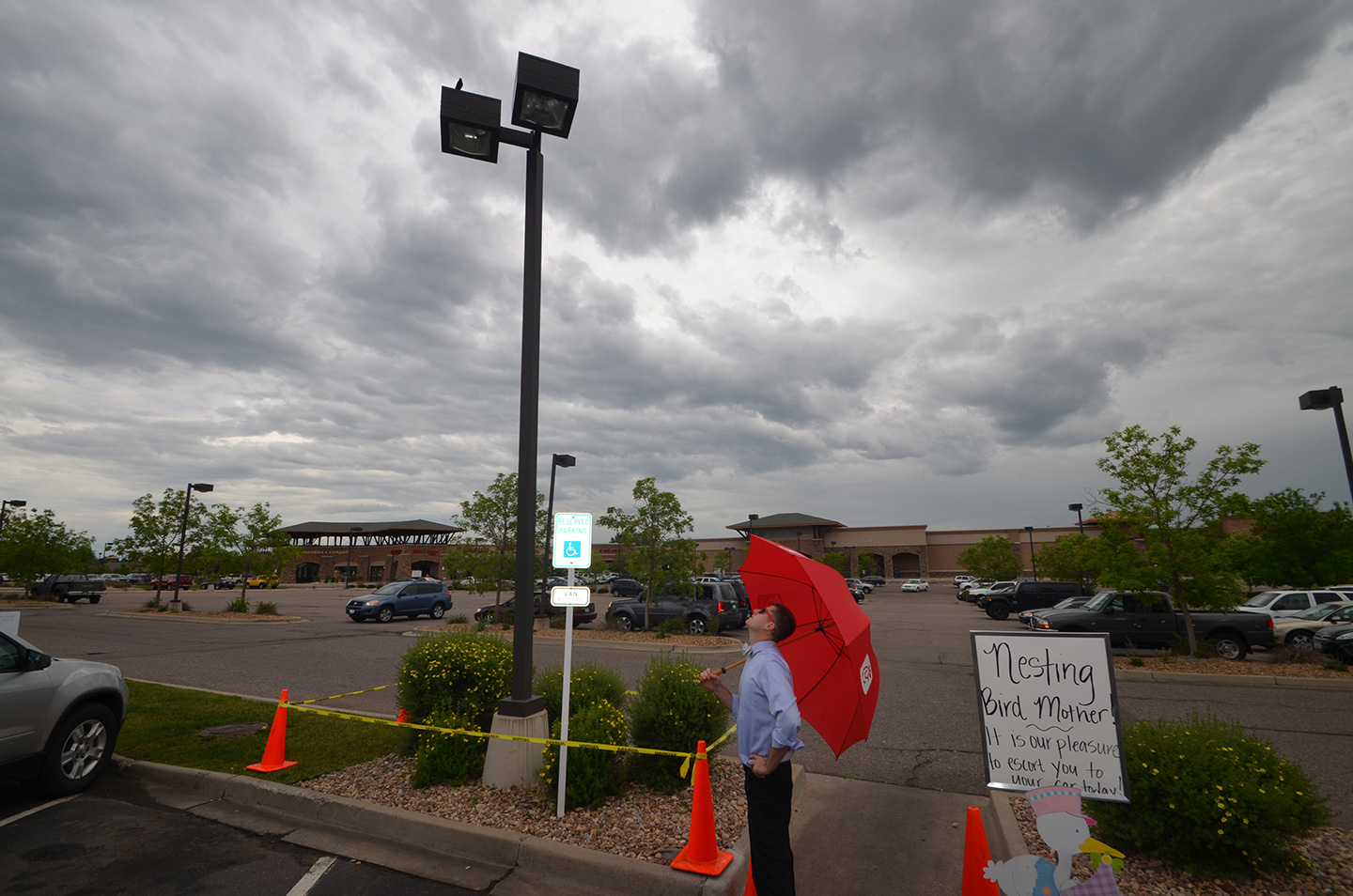 Restaurant team member looking at perched bird.
"At first it sounded ludicrous. Birds attacking people coming to eat chicken."
"They were right above my head, harping at me," described Charlie Chapin, a restaurant team member. "At first it sounded ludicrous. Birds attacking people coming to eat chicken," he said. "We thought, these birds have lost it. These birds are crazy."
Chapin opens the restaurant most days and witnessed the acrobatics over and over that first morning. It took calls to Animal Control and Colorado Parks and Wildlife to figure out why.
"There had to be a nest," he learned.
Too dangerous to search for the nest in daylight while the birds were active, Chapin waited until dark. He searched the parking lot, eventually finding a nest full of baby birds in one of the bushes lining the restaurant parking lot, about 15 feet from the door.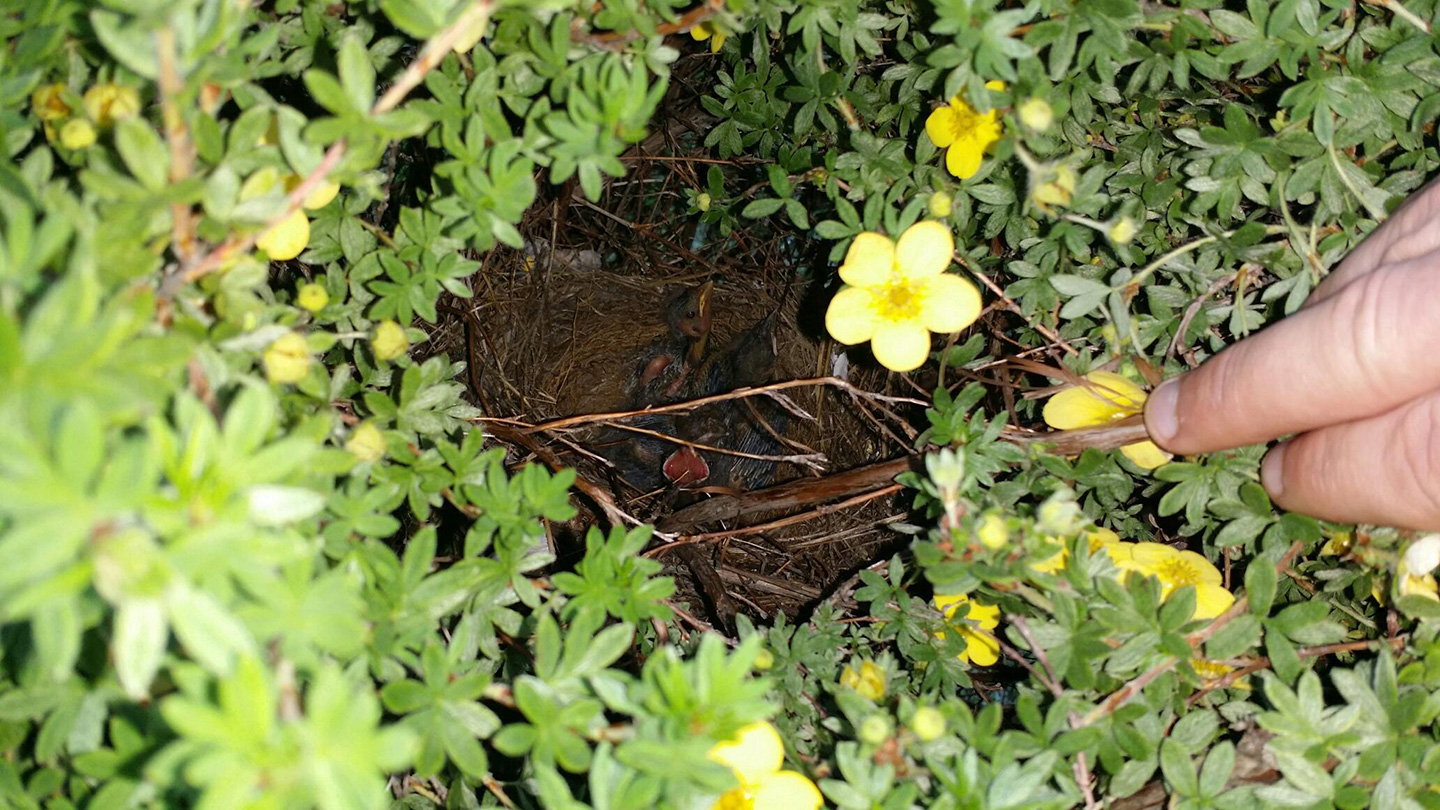 Bird Nest
"They built the nest on a Sunday, when we're obviously closed, and those birds probably had no idea how busy that parking lot is Monday through Friday," Chapin said.
Photographs of the birds shown to experts with pest control company Western Pest Services were identified as likely being either black birds or mocking birds.
"Both species will exhibit territorial dive-bombing behavior," said Shannon Sked, an entomologist and manager with Western.
"They built the nest on a Sunday, when we're obviously closed, and those birds probably had no idea how busy that parking lot is Monday through Friday."
Sked noted other similarities as well: both species nest close to the ground and – more importantly -- both are protected under the United States Federal Migratory Bird Treaty Act, which means it's illegal to harm the birds.
"Not only are the birds themselves protected, but so are the nests, nesting areas and habitat that supports the nesting areas," he said, adding, "You can't harass, bother or otherwise harm the birds or their nest."
Plain said while the birds had become a huge inconvenience, she and her team realized it would only be for a limited amount of time and, "we wanted to protect them."
So she asked Colorado Parks and Wildlife for advice and was told, "Get an umbrella."
Luckily, every Chick-fil-A already has big, red umbrellas on hand in order to walk guests to their cars when it's raining.
"So I grabbed an umbrella and gave it a whirl," Plain said. "I watched these birds dive-bomb the umbrella. It was insane. But the guests were safe."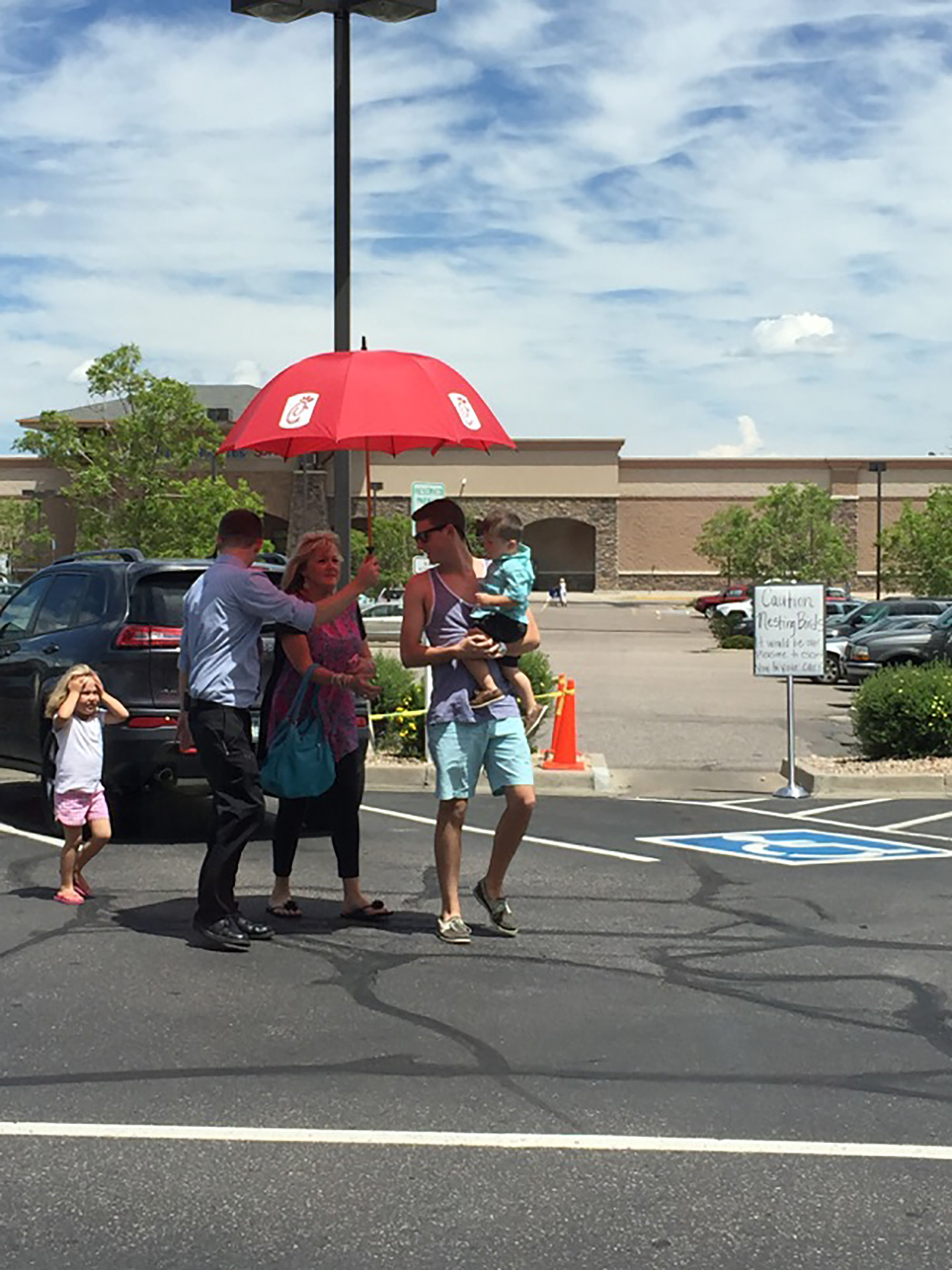 Chapin escorting guests into restaurant.
While the birds protected their babies, the team at Chick-fil-A protected their guests. They tied caution tape around the area housing the birds and set up signs warning guests to stay away. They posted messages on social media to prepare anyone planning to visit the restaurant. And for an entire week, Charlie Chapin had one mission: escort guests between their car and the restaurant with an umbrella overhead to keep them safe, which made him a target too.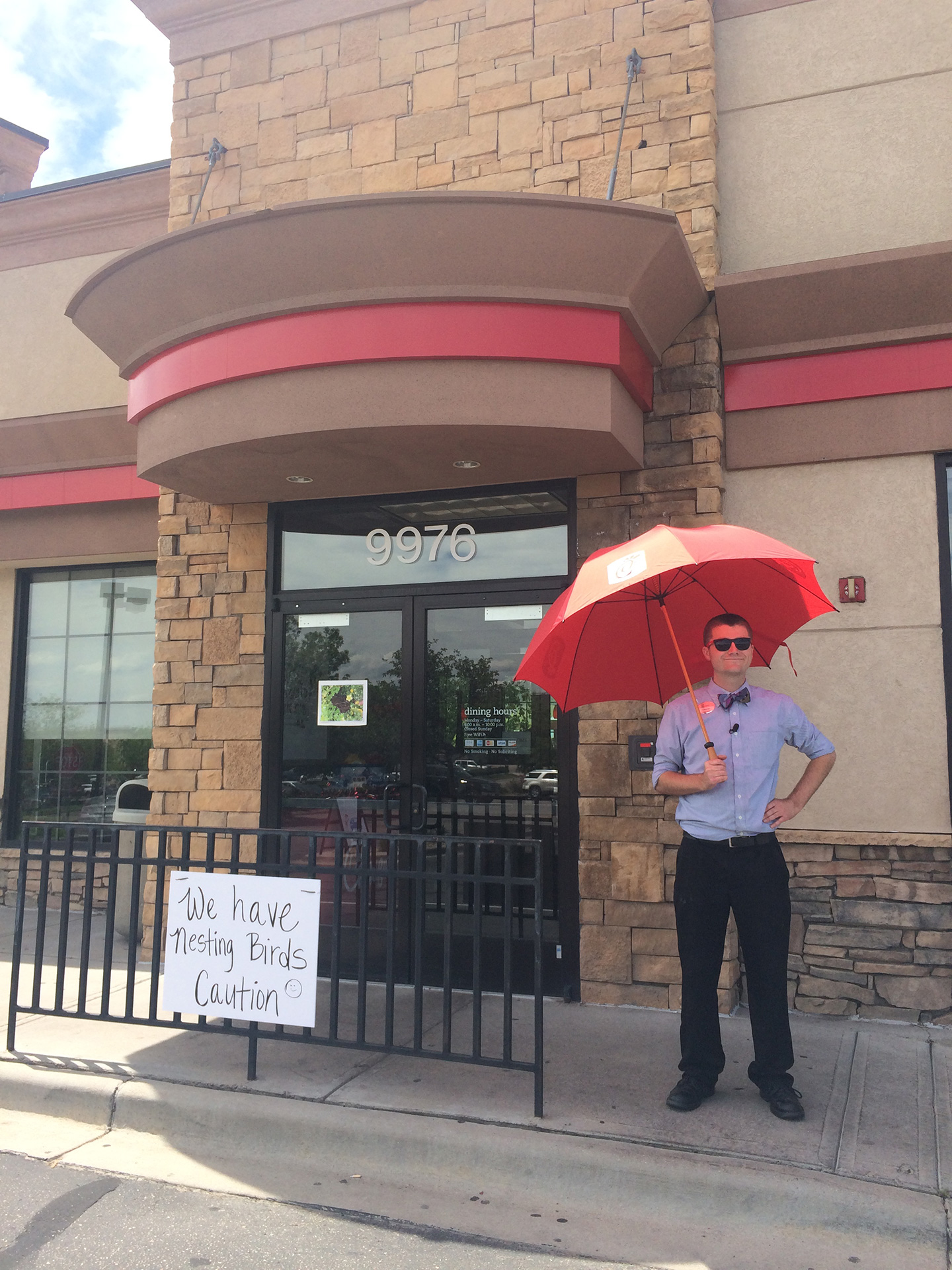 Warning sign outside of restaurant.
"They are very territorial," he said.
The birds didn't keep customers away. In fact, some came just to see the spectacle.
"I got a table right by the window where I had a perfect view," said Jan Kalne, who stuck around to watch for about 45 minutes, along with other customers who packed the parking lot side of the restaurant for a view out the windows. What surprised Kalne the most was the size of the birds; they're tiny.
"That bird would go out of its way to attack people. It was hilarious, but not, you know? It was like they were trying to scare people away," she said.
Word got out, and Kalne wasn't the only one who came to the restaurant to witness the scene.
Denver's NBC affiliate, 9News spent days at the restaurant, capturing one dramatic descent after another on video.
"You just can't stop staring at them," Plain said. "It's amazing. These birds don't tire out. It's fascinating."
The excitement isn't over.
Most of the babies have flown the nest, but the two birds are still standing watch. "We noticed there's another egg in the nest," Chapin said, which means Chick-fil-A guests in Denver will need to watch out for at least another week.