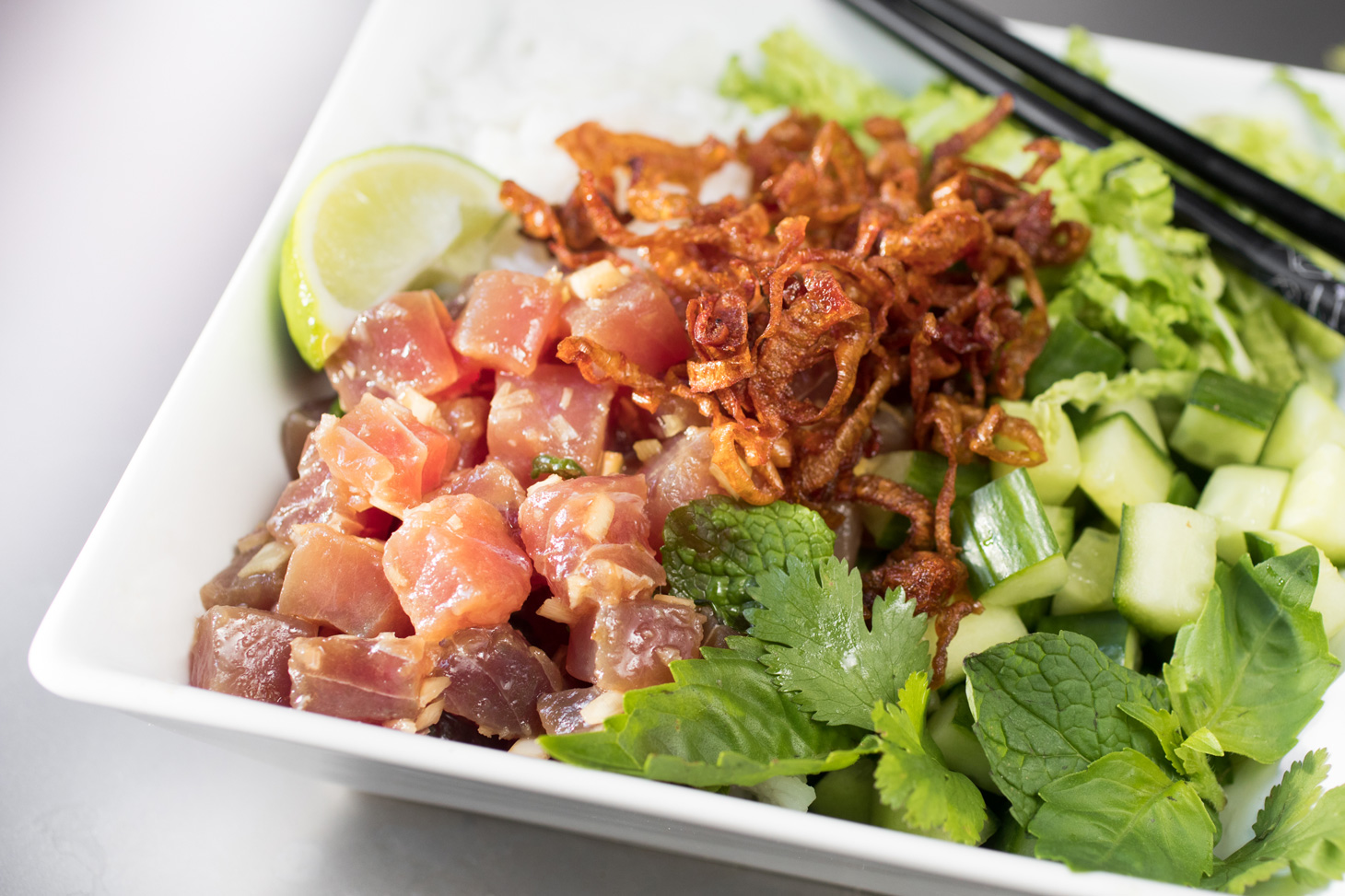 Recipe: Ahi Tuna Poke with Jasmine Rice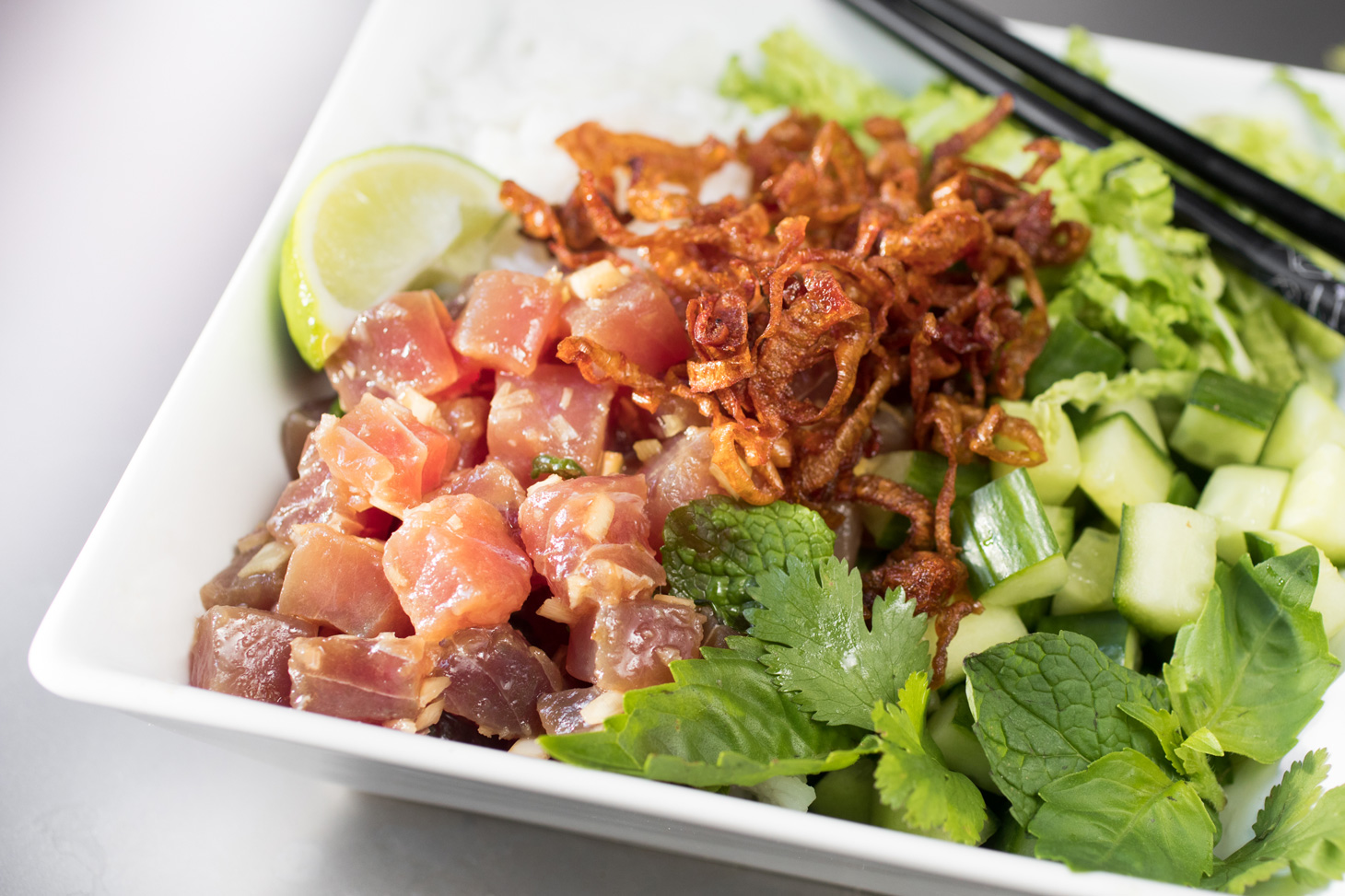 Thai spices and crispy shallots are Chef Ford Fry's secrets to this dish's success
When Atlanta-based restaurateur
Ford Fry
cooks at home, he's looking for meals that are healthy, while not skimping on flavor. He uses the tastes of Southeast Asia to bring a lot of pop to the taste buds without added calories or fats.
In this recipe, Fry combines fresh tuna with Southeast Asian flavors to create a bowl that is healthy and flavorful. The Thai herbs, such as fresh mint or cilantro, which will "give you that big flavor punch," says Fry.
Pairing it with tuna is the ticket. "I love tuna," said Chef Fry.
"Fresh and high quality tuna is great, and I just feel good after I eat it."
Fry's tuna tip: Make sure the fish is kept super cold before it's served. "I really want the tuna ice, ice cold, so I keep it in a bowl, dug down into some crushed ice." Fry enhances the tuna with different sauces, such as fish sauce, palm sugar, soy sauce, lemongrass, etc.
He also suggests having different textures. "For crunch, I use crispy shallots, which are often used in Thai/Asian food. Cucumber is another texture. Dice it and mix with the rice to give it extra texture and volume. Shaved chilies give it some spice. Then I take a big wedge of lime to squeeze on the bowl, and it's ready to eat!"
Ingredients

1 pound sushi grade sustainable tuna (large diced)
½ English cucumber (large diced, unpeeled is fine)
Crispy shallots (see recipe below – will need 6 large shallots)
1 cup shaved Savoy cabbage
3 cups steamed jasmine rice (1 cup dry)
1 cup picked Thai basil sprigs
1 cup picked mint sprigs
½ cup picked cilantro sprigs
1 ½ cup poke dressing (see recipe and ingredients below)
1 lime (cut in 4)

Poke Dressing:
1 ¼ cup ponzu vinegar
Almost ¼ cup of grapeseed oil
3 teaspoons sesame oil
1 stalk lemongrass (trim the dark part leaving about 6 inches of the lighter thicker part. With the back of your knife, beat along the stalk 15-20 times to get the oils moving. Mince finely)
1 clove fresh garlic (minced)
1 tablespoons peeled and minced fresh ginger.
2 each small Thai chilies (sliced super thin)
3 tablespoons sugar

Directions:
Crispy Shallots:
Peel and slice thin 6 large shallots. In an appropriate sized pot, just cover with vegetable oil and turn on medium-high heat, stirring occasionally until dark golden brown. Strain from the oil (reserve the oil if you like) and place on a towel lined tray to cool and crisp.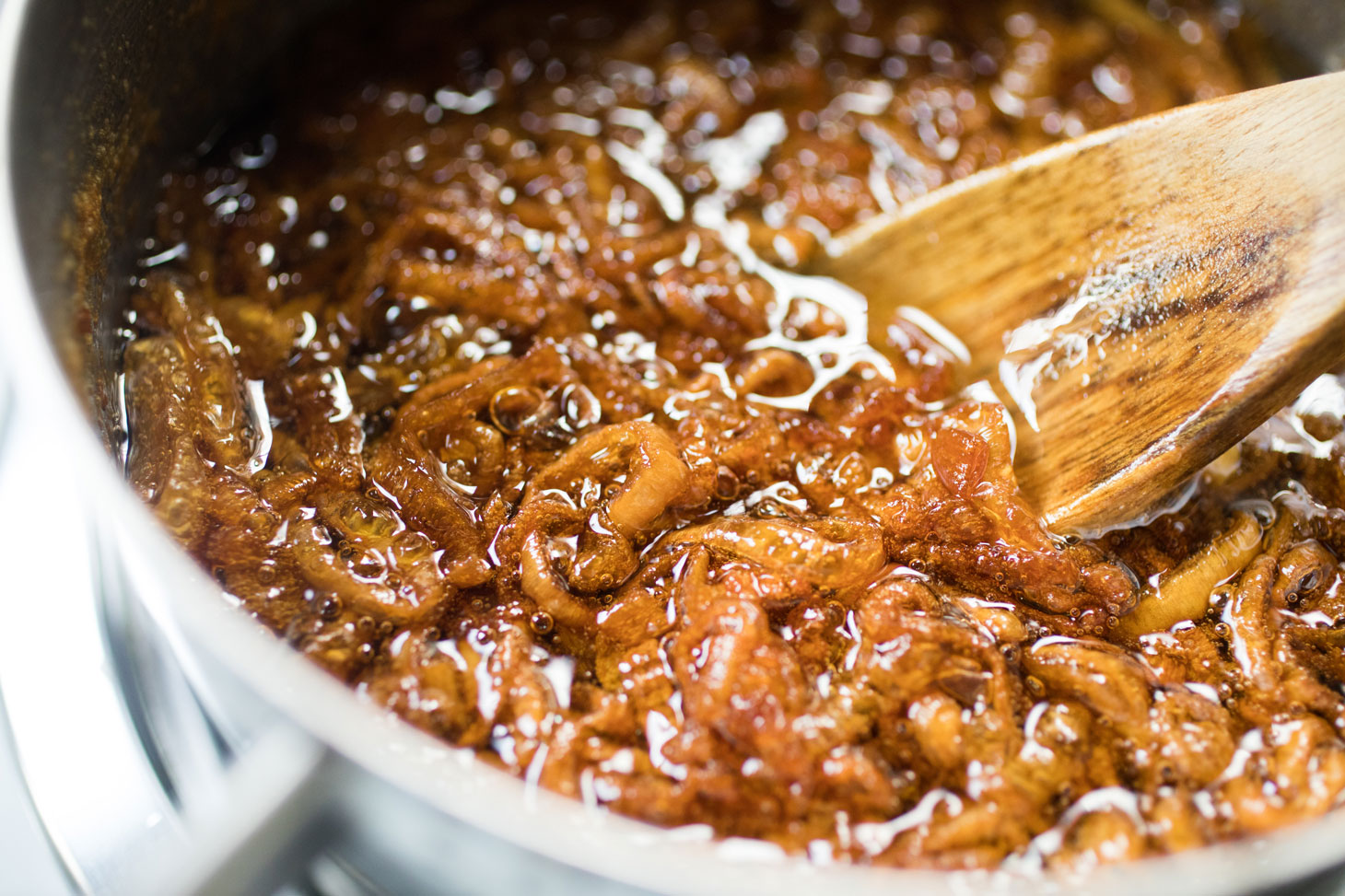 Jasmine Rice:
In a small pot, bring 1 cup plus 2/3 cup water to a boil. Stir in the jasmine rice and a pinch of salt. When the water returns to a boil, cover and turn heat to low. Cook covered for 17 minutes. Turn off heat and keep covered for 5 more minutes. After 5 minutes, fluff rice and cover to keep warm.

Build your Supper Bowl:
Begin by dressing the tuna with a ½ cup of the poke dressing and then chill. "You want it very cold," says Fry.

While the fish is chilling, build the bowls in compartments (like a pie chart): scoop of rice, cabbage, cucumber and herb mix, and then the tuna.

Top with crispy shallots and drizzle sauce over the top. Garnish with ¼ lime (meant to be squeezed into the bowl).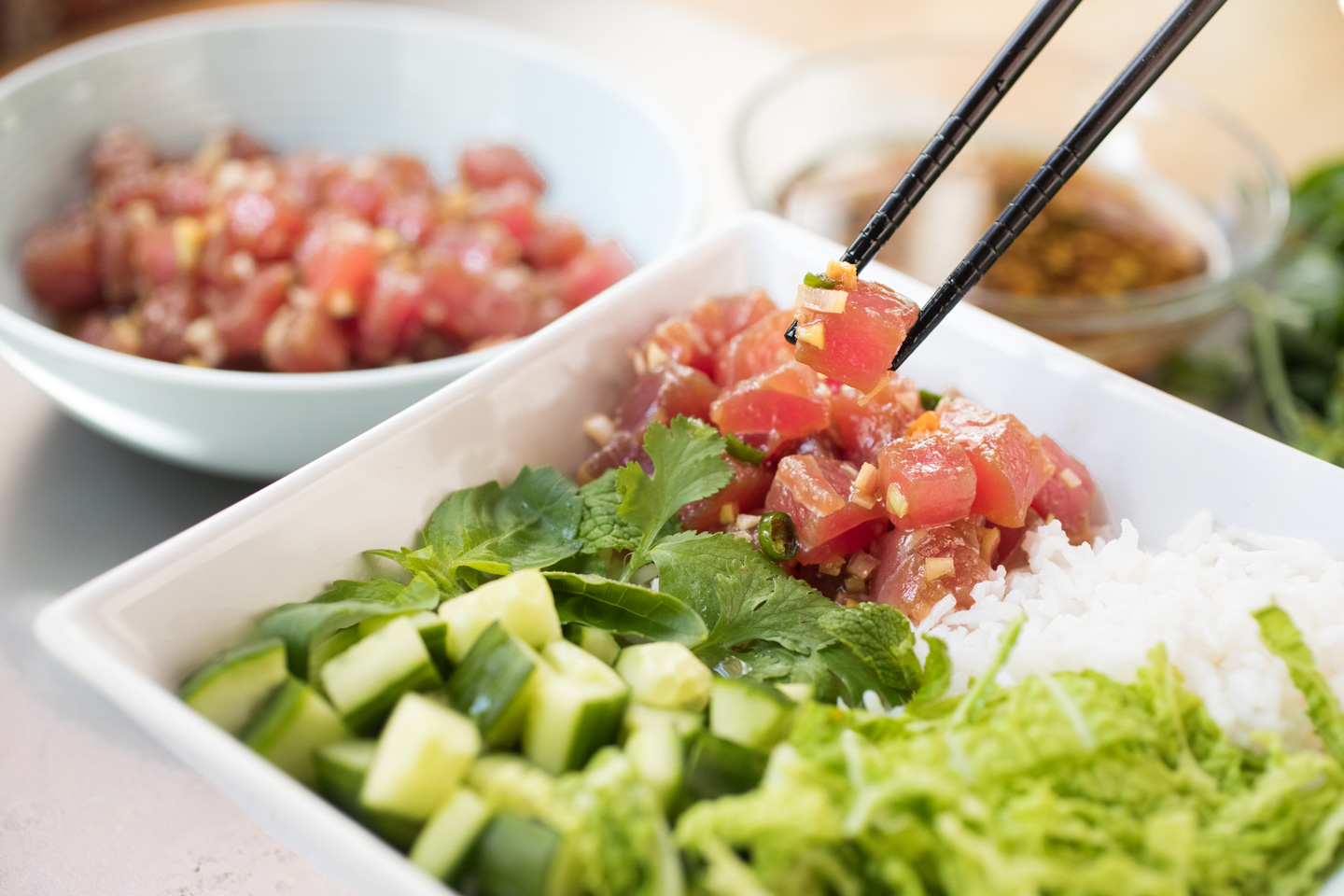 Related Articles:
Recipe: Homemade Sweet and Spicy Mustard Sauce with Honey and Sriracha
Recipe: Quinoa Caviar Snack Wraps
Recipe: Grilled Chicken Broccolini Salad with Goat Cheese and Pecans