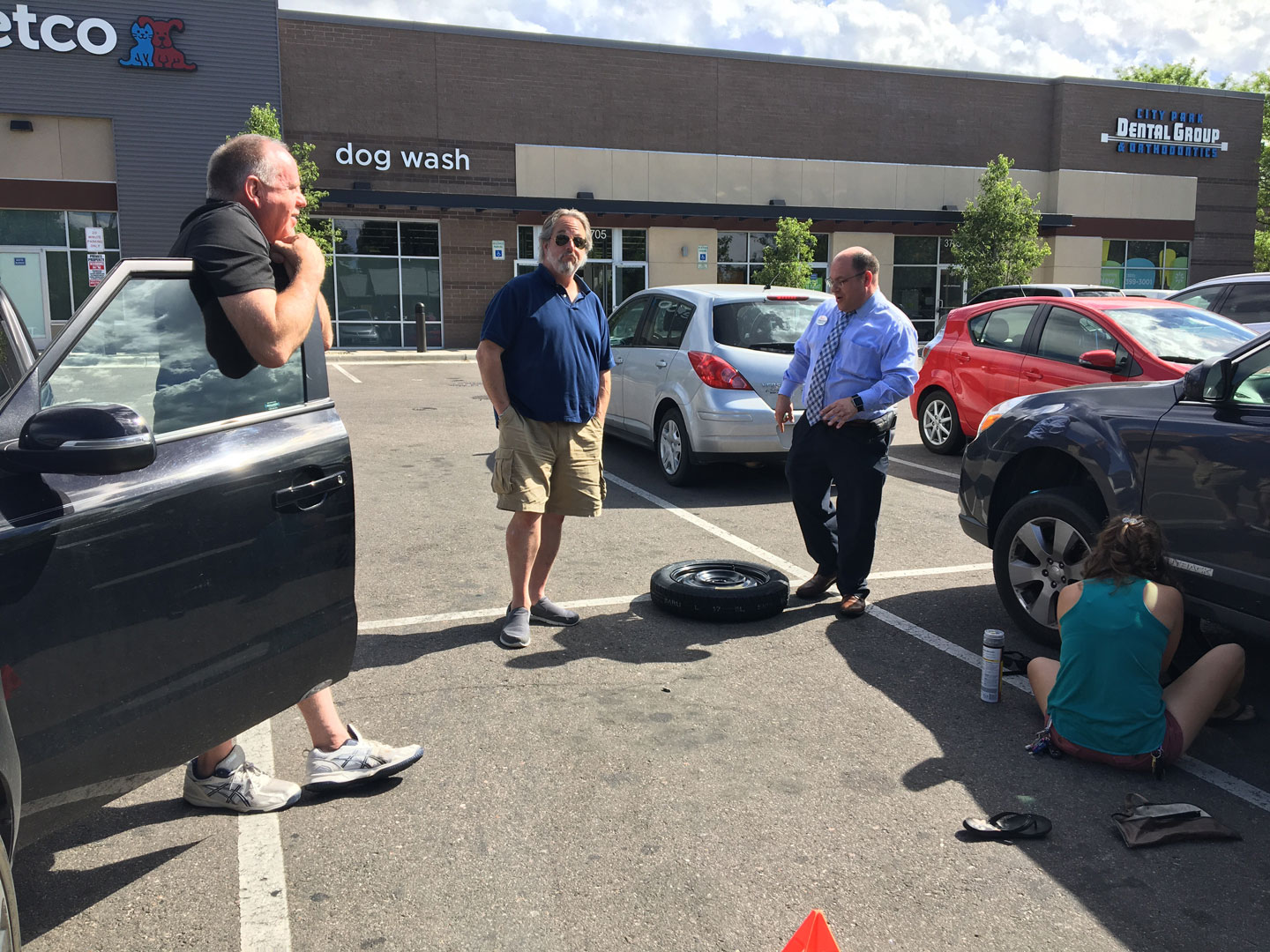 What happens when lunchtime hits and tires go flat?
When the drive-thru line at a Denver-area Chick-fil-A restaurant stopped moving, Kevin Brock, the local franchise Operator, stepped outside to investigate.

What happened next turned his team into a viral Twitter post.

Brock first discovered a stalled car in the most inopportune places at lunchtime: the drive-thru of the busy restaurant. He and other employees pushed the car to the parking lot so that they could jump it and, recognizing the customers were regulars, brought out their usual order while the battery charged.

With the drive-thru now humming along, Brock's team noticed another customer having problems with her vehicle – this time in the parking lot with a flat tire.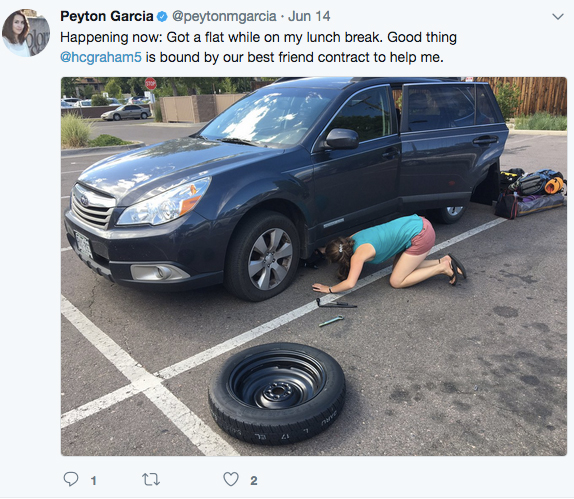 "I've never changed a flat tire before, so I asked my friend who I was having lunch with to help out," said Peyton Garcia, the driver and a local reporter at The Denver Post. "Turns out that the jack didn't have all the parts. I was on the ground in my white work pants trying to MacGyver the thing, but I'm sure it was obvious we were struggling."

Serving Sandwiches… And Roadside Assistance

That's when Garcia stepped away to call her boss and, "when I came back, there were guys standing by my car asking if they could help out," she said. One of those who offered to help was Brock.

Garcia took to social media to share the story.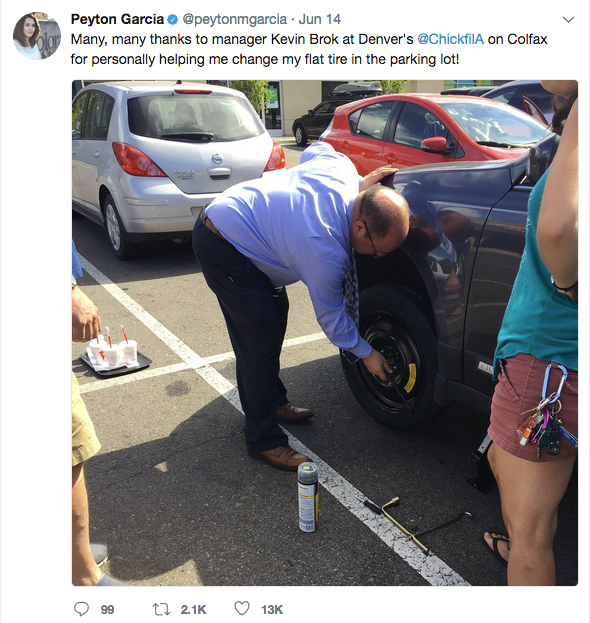 Going Viral
Garcia's post quickly hit 13,000 likes and more than 2,000 retweets. One of the most frequent comments, "Did he say my pleasure?"

"Yeah, I did," said Brock. "But I was just doing what I'd hope others would do for those in need."



The best part for Garcia? The next time, she'll be ready. "Now I know how to change a flat tire," she said. "Kevin was awesome. He even took the time to make sure I knew not to drive too fast on the spare."
Meanwhile, in Tennessee…

Spicy Chicken Deluxe Sandwich loyalist Brian Hall was picking up lunch at the Chick-fil-A drive thru in East Ridge, Tennessee, when the woman behind him noticed that his tire appeared flat.

"I pulled around to check it out, and before I knew it, one of the chefs was already taking the lug nuts off my wheel!" said Hall.

Hall works with his hands all day and had the tools he needed in his car to change the flat, but everyone at Chick-fil-A – from the Operator to the chefs – insisted that they take care of Brian's flat tire for him. In the meantime, another Team Member brought Brian's order out to his car.

"The order had only been sitting on my front seat for maybe 15 minutes, which wasn't a big deal to me, but the Chick-fil-A team told me to pull through the drive-thru line for a new, fresh order. They also included two free cookies, and I thought that was really awesome!" said Hall.

Hall's story gained attention from Atlanta TV station WSB-TV after he posted a picture to Facebook of two Chick-fil-A employees helping him out. The post has since gone viral with more than than 1,000 reactions and 500 shares.